Laser Store
Almanaq uses laser cutting to create some of our puzzle products. While our puzzle designs are proprietary, we will be selling some of the subsidiary things we use to create our products, such as fonts, in the future. In the meantime, here are some free designs which may be useful.
No Crumbtray Tool (FREE Digital design for Glowforge)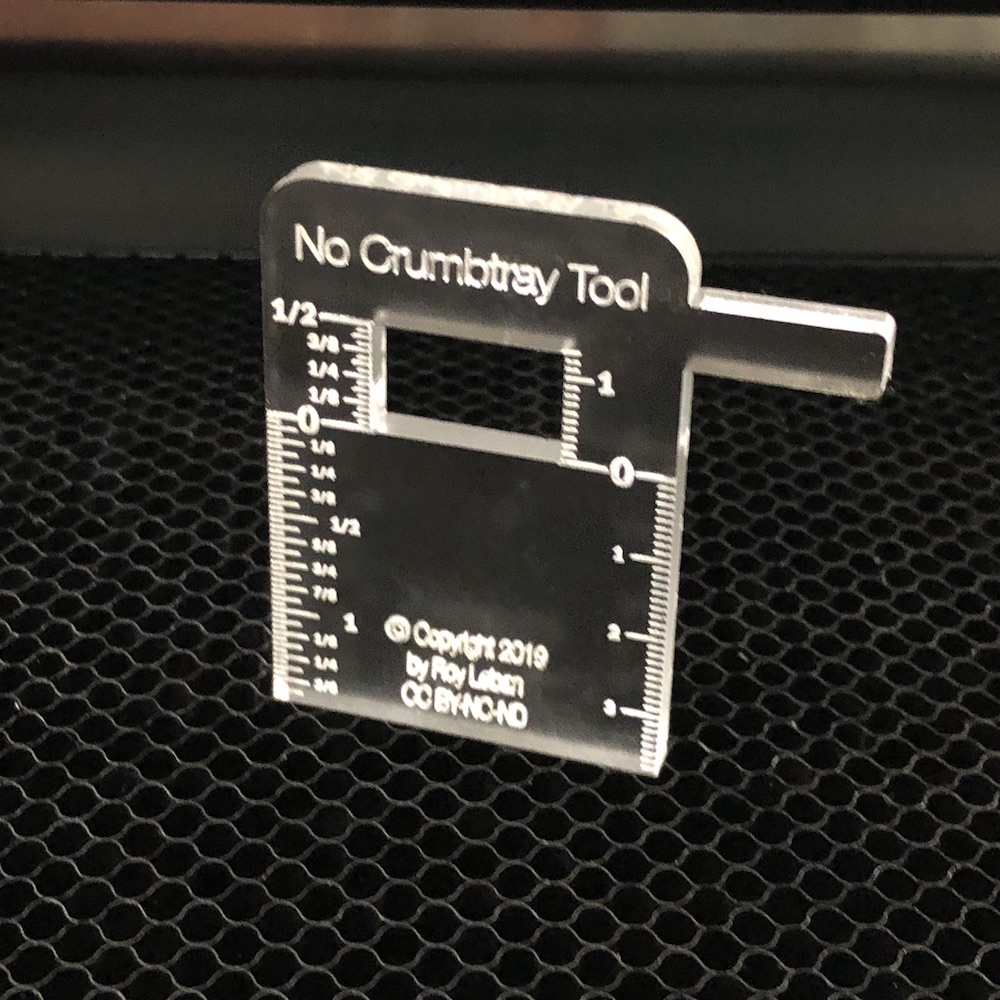 This tool is useful for making items when a Glowforge crumbtray is removed, which you must do to make items taller than 1/2" high. If you cut it out of 3/16" or thicker acrylic, it will stand up on its own. There are two versions:
Clear or transparent yellow acrylic is recommended.
Using. Remove the crumbtray and set the tool on the floor of your Glowforge. The window shows the focus area of the laser. Put whatever you need underneath your item so the surface is within the window. Make sure that nonoe of your material is above the top of the arm that sticks out to the right, or it will get hit by the laser head. Use the measurement markings on the window or Set Focus to set your focus height.
Making. To cut on a Glowforge, the first two colors are engrave colors (they are separate in case you want the positive numbers engraved deeper), the middle color is scoring, and the last two colors are cutting. All but the score color should be setup automatically.
License. These files are free, released under a Creative Commons BY-NC-ND license. This means you may pass this file on to others, but you may not modify it in any way and you may not sell it. Instead of giving others the file, we request that you give them the URL to this page: https://www.almanaq.com/laser.
Removing or hiding the name, copyright notice, or license notice in the process of creating a physical tool from this file is considered a modification and is not allowed. You may use physical tools that you make from your file in a commercial manner, including selling physical tools.
Ideas are free. If you like this idea and want to make your own design from scratch using any of these ideas, this license does not apply.
If you want to thank me for providing this tool, please use or pass on my Glowforge referral code https://glowforge.us/r/6SRJG. You get a discount of up to $500 (on a Pro model) when you use it, and I get a kickback as well.